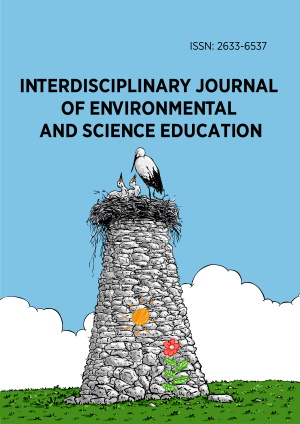 Bringing Environmental Education to the Curriculum: Practical Elements Emergent from Teaching Experiences and Research
ABSTRACT
Bringing theories or policies about environmental education into the classroom is a common problem that teachers must confront. The purpose of this paper is to provide teachers with practical elements emergent from teaching experiences and research. A Complex Environmental Formation framework is proposed to curricularize a self-eco-organized understanding of the environment and being. Methodologically, three cases are studied using in two methods – a content analysis to identify emergent teaching elements, and a conducted analysis using the framework. The analysis and results indicate some potentially transferable teaching elements –a) selecting local environmental situations to contextualize curriculum, b) integrating knowledge for reading/transforming reality, c) guiding teaching and learning through questions, d) competence-based teaching and learning, e) project-based teaching and learning, f) assessing cooperatively and with formative purpose, g) addressing environmental education from different educational approaches, and h) breaking institutional barriers. There is an approximation to self-eco-organize the subject, communities, institutions, knowledge, learning, teaching, and assessment.
KEYWORDS
CITATION (APA)
Tovar-Gálvez, J. C. (2021). Bringing Environmental Education to the Curriculum: Practical Elements Emergent from Teaching Experiences and Research .
Interdisciplinary Journal of Environmental and Science Education, 17
(3), e2236.
https://doi.org/10.21601/ijese/9606
Harvard
Vancouver
AMA
Chicago
MLA
REFERENCES
ActionAid International. (2009). Resource Pack on Systematization of Experiences. Buenos Aires: GHM Grupo de Comunicación.
Abril, V. (2011). Desarrollo de la competencia ambiental en los estudiantes de la carrera de Ingeniería Industrial de la Universidad Tecnológica Indoamérica. Espiral, Revista de Docencia e Investigación, 1(1), 67-72.
Álvarez, V., Herrejón, V., Morelos, M., & Rubio, M. (2010). Trabajo por proyectos: aprendizaje con sentido. Revista Iberoamericana de Educación, 52(5), 1-13.
Ardoin, N., Bowers, A., Wyman, N., & Holthuis, N. (2018). Environmental education and K-12 student outcomes: A review and analysis of research. The Journal of Environmental Education, 49(1), 1-17. https://doi.org/10.1080/00958964.2017.1366155
Arredondo, M., Saldivar, A., & Limón, F. (2018). Educational strategies to approach environmental topics. Experiences in primary schools in Chiapas. Innovación educativa (México, DF), 18(76), 13-37.
Ausubel, D., Novak, J., & Hanesian, H. (1978). Educational Psychology: A Cognitive View. New York: Holt, Rinehart and Winston.
Bogantes, J., & Palma, K. (2016). Teaching and learning continuous regulation from evaluate to learn. A didactics of language department experience. Innovaciones educativas, 18(24), 59-72.
Briggs, L., Trautmann, N., & Fournier, C. (2018). Environmental education in Latin American and the Caribbean: The challenges and limitations of conducting a systematic review of evaluation and research. Environmental Education Research, 24(12), 1631-1654. https://doi.org/10.1080/13504622.2018.1499015
Burmeister, M., & Eilks, I. (2013a). An understanding of sustainability and education for sustainable development among German student teachers and trainee teachers of chemistry. Science Education International, 24(2), 167-194.
Burmeister, M., & Eilks, I. (2013b). Using participatory action research to develop a course module on education for sustainable development in pre-service chemistry teacher education. Center for Educational Policy Studies Journal, 3(1), 59-78.
Calvo-Cruz, X. (2013). La educación ambiental de la niñez costarricense en la edad escolar: responsabilidad compartida por el currículo oficial del ministerio de educación pública y el hogar. Biocenosis, 27(1), 14-20.
Cárdenas, N., y Suarique, E. (2010). La biblioteca comunitaria gestora de red social. Bogotá: Alcaldía Mayor de Bogotá.
Carvajal, Y. (2010). Interdisciplinary: a challenge for higher education and research. Revista Luna Azul, 31, 156-169.
Dannenberg, S., & Grapentin. T. (2016). Education for sustainable development – learning for transformation. The example of Germany. Journal of Futures Studies, 20(3), 7-20. doi:10.6531/JFS.2016.20(3).A7
Demoly, K. R. A, & Santos, J. S. (2018). Learning, environmental education and school: ways of en-acting in the experience of students and teachers. Ambiente & sociedade, 21, 2-20. doi:10.1590/1809-4422asoc0087r2vu18l1ao
Díaz, S., Mendoza, V., & Porras, C. (2011). Una guía para la elaboración de estudios de caso. Razón y palabra, 75, 1-25.
Dyment, J., Hill, A. & Emery, S. (2015). Sustainability as a cross-curricular priority in the Australian Curriculum: a Tasmanian investigation. Environmental Education Research, 21(8), 1105-1126, DOI: 10.1080/13504622.2014.966657
Erdoğan, M., Kostova, Z., Marcinkowski, T. (2009). Components of environmental literacy in elementary science education curriculum in Bulgaria and Turkey. Eurasia Journal of Mathematics, Science and Technology Education, 5(1), 15-26.
Eschenhagen, M. (2011). The environmental issue and the environmental education in universities: some indicators and reflections. Revista de Educación y Desarrollo, 19, 35-41.
Falkembach, E., & Carillo, A. T. (2015). Systematization of experiences: A practice of participatory research from Latin America. In Bradbury, H. The SAGE Handbook of action Research (pp. 76-82). London: SAGE Publications Ltd. DOI: 10.4135/9781473921290
Fuentes, N., & González, H. (2016). Greening of university curriculum: a challenge of ecopedagogy. Tecné, Episteme y Didaxis, 40, 310-339.
Geli, A., Collazo, L., & Mulà, I. (2019). The evolution of embedding sustainability in the higher education curriculum in Spain. Revista de educación ambiental y sostenibilidad 1(1), 1102.
Gutiérrez, J., & González, A. (2005). Ambientalizar la universidad: un reto institucional para el aseguramiento de la calidad en los ámbitos curriculares y de la gestión. Revista Iberoamericana de Educación, 36(7), 1-14.
Gutierrez-Sabogal, L. (2015). Problematic of the environmental education in educational institutions. Revista científica, 3(23), 57-76.
Hernández, T. (2014). Sistematización de experiencias del proyecto "escuelas protectoras del medio ambiente" - lecciones aprendidas. Fundación Corona, Fundación PLAN, UNICEF: Bogotá.
Hsieh, H-F & Shannon, S. E. (2005). Three approaches to qualitative content analysis. Qualitative Health Research, 15(9):1277-88.
Jara, O. (2012). Systematization of experiences, research and evaluation: three different approaches. The international journal for global and development education research, 1, 71-84.
Kanyimba, A., Hamunyela, M., & Kasanda, Ch. D. (2014). Barriers to the implementation of education for sustainable development in Namibia's higher education institutions. Creative Education, 5, 242-252.
Khademi-Vidra, A. (2017). Curriculum planning of the environmental education. Journal of Central European Green Innovation, 5(1), 65-80.
Marques, R., Gonzalez, C.E.F., & Xavier, C.R. (2016). As dificuldades da inserção e da prática em educação ambiental no currículo escolar. VXI Encontro Paranaense de Educação Ambiental. Paraná.
Martínez, V. (2019). Systematization of environmental educative experiences in tourism. Revista Electrónica Cooperación Universidad Sociedad, 4(3), 43-54.
Mejías, J. J. (2015). La colaboración docente en el marco de los equipos didácticos de ciclo: estudio de caso. Revista internacional de organización educativa y liderazgo, 2(1), 37-48.
Menegaz, A., Cordero, S. & Mengascini, A. (2012). Sistematización de una experiencia de educación ambiental en la formación docente continua: representaciones, ambiente y análisis colaborativo. Revista Electrónica de Enseñanza de las Ciencias, 11(3), 660-677.
Meyers, R. (2006). Environmental learning: reflections on practice, research and theory. Environmental Education Research, 12(3-4), 459-470, DOI: 10.1080/13504620600799216
Mora, W. (2015). Capacity development and training of competences environment in teachers of science. Tecné, Episteme y Didaxis, 38(2), 185-203.
Morin, E. (1996). Thought ecologized. Gazeta de Antropología, 12, 1-7.
Morin, E. (1998). Introducción al pensamiento complejo. Barcelona: Gedisa.
Morin, E. (1999). Seven complex lessons in education for the future. Paris: UNESCO.
Morin, E. (2004). Epistemology of complexity. Gazeta de Antropología, 20, 1-15.
Morón, F. (2015). La importancia de hacer buenas preguntas a nuestros alumnos de la ESO. Revista Arista Digital, 54, 1-12. Retrieved from https://bit.ly/2vD3q1Q
Mpofu, V., Otulaja, F., & Mushayikwa, E. (2014). Towards culturally relevant classroom science: a theoretical framework focusing on traditional plant healing. Cultural studies of science education, 9, 221-242. 10.1007/s11422-013-9508-5
Oliveira, J. A., & Sá, P. A. P. (2017). Pensar em competências para o desenvolvimento sustentável e sustentabilidade: uma análise frente aos desafios do século XXI. Educação Ambiental em Ação, 61, 1-17.
Paredes-Chi, A., & Viga-de Alva, M. (2018). Environmental education (EE) policy and content of the contemporary (2009-2017) Mexican national curriculum for primary schools. Environmental Education Research, 24(4), 546-580.
Parga, D., & Mora, W. (2016). Environmental didactics and educational knowledge of content in chemistry. Indagatio Didactica, 8(1), 777-792. https://doi.org/10.34624/id.v8i1.3487
Puerto Layton, C. M., & Tovar-Gálvez, J. C. (2020). Proposal for an assessment system of environmental education processes based on complexity expressions scenarios. Revista Internacional De Formação De Professores, 5, e020029, 1-25. Retrieved from https://bit.ly/2HUlu1u
Restrepo, K. P. (2013). La exclusión de la contaminación hídrica dentro del currículo educativo. Nousitz: Revista de investigación científica y tecnológica, 54, 39-51.
Rivarosa, A., & Perales, F. (2006). La resolución de problemas ambientales en la escuela y en la formación inicial de maestros. Revista Iberoamericana de Educación, 40, 111-124.
Sanuca, M. (2018). The environmental education, a challenge for the professional's formation in Angola. VARONA, Revista Científico-Metodológica, 67, 1-10.
Solbes, J., & Vilches, A. (2004). Papel de las relaciones entre ciencia, tecnología, sociedad y ambiente en la formación ciudadana. Enseñanza de las Ciencias, 22(3), 337-348.
Stevenson, R. B. (2007). Schooling and environmental/sustainability education: from discourses of policy and practice to discourses of professional learning. Journal Environmental Education Research, 13(2), 265-285. Retrieved from doi:10.1080/13504620701295650
Tian, Y., & Wang, Ch. (2016). Environmental education in China: development, difficulties and recommendations. Journal of social science studies, 3(1), 31-43.
Torres, L., Mesina, N., Salamanca, B., & Sepúlveda, C. (2016). Effect of the interdisciplinary teaching of environmental education on knowledge, values and attitude of junior high school students (Los Ángeles city, Biobio Region, Chile). Revista Complutense de Educación, 27(3), 1139-1155. doi:10.5209/rev_RCED.2016.v27.n3.47551
Tovar-Gálvez, J. C. (2012). Metacognición y Didáctica de las Ciencias: integración de procesos de enseñanza, procesos metateóricos y competencias. Saarbrücken: Editorial Académica Española.
Tovar-Gálvez, J. C. (2013). Pedagogía ambiental y didáctica ambiental como fundamentos del currículo para la formación ambiental. Revista Brasileira de Educação, 18(55), 877-898. DOI: 10.1590/S1413-24782013000400005
Tovar-Gálvez, J. C. (2018). Transformaciones de la docencia para una formación por competencias en ciencias. In: Tovar-Gálvez, J. C. (Ed). Trends and challenges in Higher Education in Latin America (1-10). Eindhoven: Adaya Press. Retrieved from https://bit.ly/2YUDjma
Tovar-Gálvez, J. C. (2020a). Currículo de educación ambiental desde la complejidad: construcción de la competencia ambiental a través de proyectos. In: Hernández, A., Ramírez, R., & Escobar, O. (Eds). Educación ambiental en el siglo XXI: del trayecto de construcción a la imperiosa necesidad (105-140). Hermosillo: CONACYT. Retrieved from https://bit.ly/2W8z0SP
Tovar-Gálvez, J. C. (2020b). Reducing the gap between theory and practice during the pandemic: planning a complex virtual environmental project. Revista Internacional De Pesquisa Em Didática Das Ciências E Matemática, 1, e020017, 1-22. Retrieved from https://bit.ly/32Qmz0q
Tovar-Gálvez, J. C., & Cárdenas, N. (2012). La importancia de la formación estratégica en la formación por competencias: evaluación de las estrategias de acción para la solución de problemas. Revista Electrónica de Investigación Educativa, 14(1), 122-135. Retrieved from https://bit.ly/31MxTeH
Tovar-Gálvez, J. C., Téllez-Acosta, M., & Martínez, D. (2017). Inclusive environmental education for civil society in multicultural cities. Adult Education and Development, 84, 85-89. Retrieved from https://bit.ly/3lDZQgS
Vásquez, E., Becerra, A., & Ibáñez, S. (2014). Directed research as strategy for development of science skills. Revista científica, 18, 75-85.
Winter, J., & Cotton, C. (2012). Making the hidden curriculum visible: Sustainability literacy in higher education. Environmental Education Research, 18(6), 783-796, 10.1080/13504622.2012.670207
LICENSE
This is an open access article distributed under the
Creative Commons Attribution License
which permits unrestricted use, distribution, and reproduction in any medium, provided the original work is properly cited.