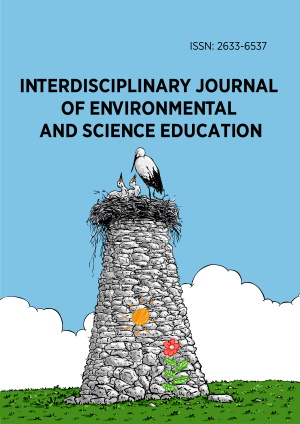 Keyword: outdoor learning
3 results found.
ABSTRACT: Despite recent reforms concerning how students engage in science, there have been significant challenges for educators seeking to consistently implement science practices within the classroom. This study considered science practices within a wonder-framed nature study as one possible way for educators to support students as they take on the role of scientists. We interviewed twenty students in Grades 3 through 5 who had participated in wonder journaling sessions outdoors that led to an investigative project and presentation. The evidence suggests that students strongly engaged in investigative science practices, and that they also experienced opportunities for sensemaking and critiquing practices. Through a qualitative data analysis, four main themes emerged that provide insight into the experiences of the students within the study: joy, community, autonomy, and challenges. The data indicate that wonder is an authentic and viable route towards the implementation of the science practices within an elementary school setting. The implications of this study are considerable and offer strategies for educators seeking to incorporate science practices in an authentic way that integrates both wonder and outdoor learning.
ABSTRACT: Climate change is one of the major challenges facing society today and more effective education is needed on this topic. This study analysed the effects of an inquiry-based science activity about climate change effects in ocean ecosystems, done in a research laboratory and in the classroom, on primary students' knowledge, investigation skills and satisfaction. Data were collected through the application of pretests and posttests, direct observation, questionnaires, interviews and document analysis. Results revealed an increase in students' scientific knowledge and application to new situations. Regarding investigation skills, all students were able to make predictions, and to easily observe and register data. However, experimental planning and conclusions were more difficult for them. Students and teachers emphasised their satisfaction with the outdoor activity, teamwork and the subject. The present study revealed a positive effect of the participation in the inquiry-based activity, embedded on a socio-scientific issue, in students' conceptual knowledge and in the development of investigation skills.
ABSTRACT: The research presented in this paper answers the question: What factors are most related to students' perception of learning during outdoor science lessons occurring in schools' immediate surroundings? Twenty-six science teachers, as well as 71 classes of seventh (51 classes) and eighth (20 classes) graders participated in our study (n = 2007). All 26 teachers agreed to plan and carry out five outdoor lessons in their schools' immediate surroundings for each class they decided to include in the study. The 11 influencing factors we examined in this quantitative study were: the duration of the outdoor lesson, the students' level of preparation, the students' opportunity to make choices, the outdoor environment, the position in the lesson sequence, the presence of a laboratory technician, the scientific discipline, the grouping of the students, the teacher's outdoor teaching experience, the type of activity, and the weather conditions. To identify the factors most related to students' perception of learning, we ran a bivariate correlation analysis and then used a three-level hierarchical linear model (HLM) with the significant factors from the bivariate correlation. Our results showed that students' perception of learning was significantly and positively correlated with the factors listening to scientific explanations, being grouped with the entire class, students' level of preparation, and students' opportunity to make choices, and negatively correlated with observing. We conclude this paper by arguing that students' perception of learning is really a perception that is based on their anticipated success on school assessments.